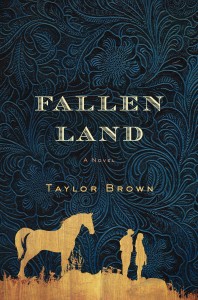 I'm very, very, very happy to announce that St. Martin's Press has acquired the rights to my debut novel, FALLEN LAND, for publication in 2016.  It's been a long road, and a hard one, and I can still hardly believe it.
The hardcover publication date is going to be in January of 2016. You can now pre-order the book on Amazon here.  If you'd like a sneak peek, the title story of my collection, In the Season of Blood & Gold, is also the first chapter of the novel.
Here's what was posted in Publisher's Marketplace:
Montana Prize in Fiction winner Taylor Brown's FALLEN LAND, pitched in the vein of early Cormac McCarthy and Tom Franklin, in which a pair of orphaned lovers–a desperate horse-thief and the pregnant daughter of a mountain doctor–flee a vicious band of Confederate marauders down out of the outlaw high country of the Blue Ridge Mountains and through the terrible wake of Sherman's March to the Sea, searching for a home in a ravaged land, to George Witte of St. Martin's, for publication in 2016, by Christopher Rhodes at James Fitzgerald Agency (World).
I'll keep you guys posted on more news as it comes up.