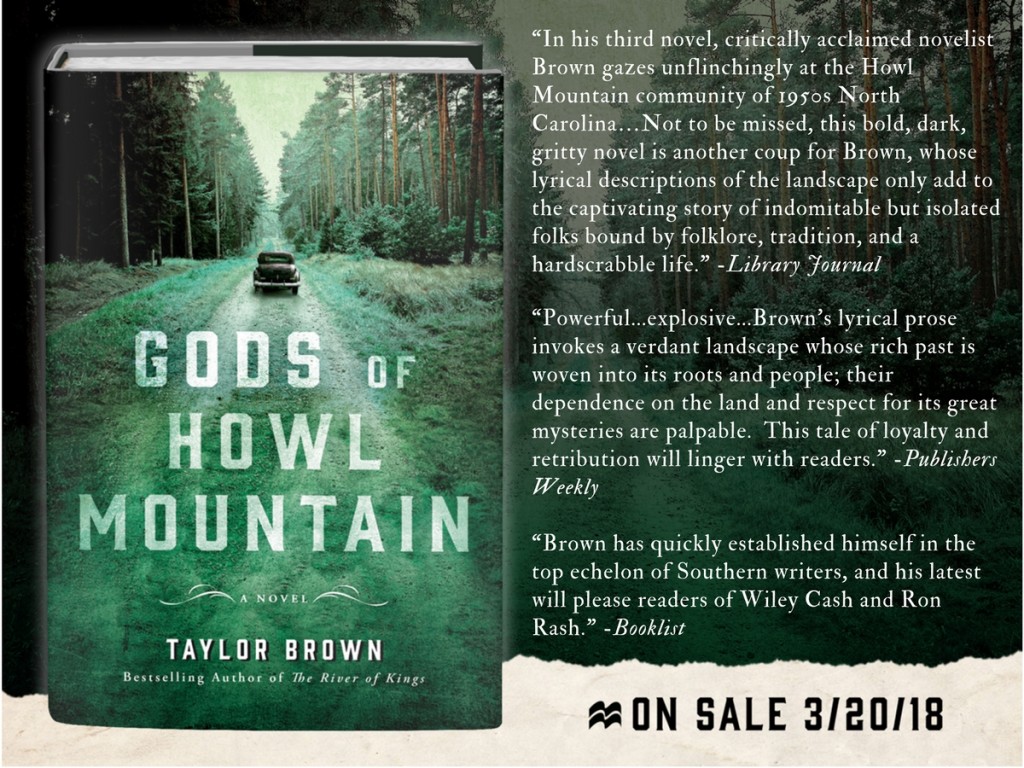 We've been very lucky to receive some rave reviews for Gods of Howl Mountain, both from trade publications and indie booksellers.
Trade Reviews:
"Brown (The River of Kings, 2017) immerses the reader in the mountain landscape, such that one can feel the rich soil as Granny May digs for roots, listen to nocturnal howls carried on the crisp night air, and smell the pig roasting over the fire. Brown's dialogue, too, is magical, capturing the local idioms and cadences and rendering them musical. Ultimately, though, it's the characters, so wonderfully vibrant and alive in their all-too-human variety—scared, tightly wound, angry, damaged, yet resourceful and resilient, some honorable, some not—that demonstrate Brown's prodigious talent. Brown has quickly established himself in the top echelon of Southern writers, and his latest will please readers of Wiley Cash and Ron Rash." –Booklist
"Powerful…explosive…Brown's lyrical prose invokes a verdant landscape whose rich past is woven into its roots and people; their dependence on the land and respect for its great mysteries are palpable.  This tale of loyalty and retribution will linger with readers." –Publishers Weekly
"In his third novel (after River of Kings), critically acclaimed novelist Brown gazes unflinchingly at the Howl Mountain community of 1950s North Carolina…Not to be missed, this bold, dark, gritty novel is another coup for Brown, whose lyrical descriptions of the landscape only add to the captivating story of indomitable but isolated folks bound by folklore, tradition, and a hardscrabble life." –Library Journal
Bookseller Reviews:
Rachel Watkins from Avid Bookshop in Athens, GA:
"Taylor Brown's writing grows sharper with each book and you'll love GODS OF HOWL MOUNTAIN as the people and places inevitably win your heart. Korean war veteran Rory Docherty and his forest shaman grandmother May have a deep connection to their North Carolina town, and when Rory's bootlegging business gets rocky, deep family secrets may have something to do with the trouble. This is a lyrically beautiful book. If you haven't read Taylor Brown, I'd start with this one."
Darwin Ellis from Books on the Common in Ridgefield, CT:
"Gods of Howl Mountain—Taylor Brown.  Although we all have or had grandmothers, it would be rare if one of them resembles 'Granny May' who dominates this tale of 1950s North Carolina backwoods seething with bootleggers, Feds, crooked lawmen and snake-handling Christians.  She has raised her grandson Rory, recently returned from Korea minus a leg and minus an explanation for who killed his father and made his mother mute with grief.  Granny May has a dark past but is now retired to the mountains where she is a force to be reckoned with as the local folk healer which she does with herbs and potions, and other tricks.  So take a visit to the hollers of North Carolina and meet the curious folk who once inhabited them with Taylor Brown as your guide.  His writing sometimes tingles the throat like that moonshine transported all other those hills with such passion, skullduggery , determination,  and ingenuity."
Josh Niesse of Hills & Hamlets Bookshop in Chattahoochee Hills, GA:
"Two words: Granny May. The story of Rory Docherty and the illegal whiskey running business he is caught up in is good, great even. But Rory's grandmother steals the show.  Granny May is a witchy Appalachian folk healer, herbalist, and bawdy former prostitute whose dark, earthy wisdom combines with her sly, miscreant humor to create a truly unforgettable character. I think Taylor Brown shook Tom Robbins and Flannery O'Connor in a cocktail shaker with whiskey, cannabis, and sassafras and out poured Granny May."
Damita Nocton from The Country Bookshop in Southern Pines, NC:
"To read the work of Taylor Brown is to be given the capacity to enter any world his writing fearlessly creates. He is a well-spring of lyrical beauty.

"Gods of Howl Mountain carried me deep into the mountains of NC, post-Korean War, where moonshine ran like it sprang from the earth, where the embryonic seeds for NASCAR were being sown by moonshine runners in souped up cars, and where the people took care of their own, whether by home remedies gifted from the mountains or by brutality and revenge.

"The characters are unforgettable and remained with me long after closing the book. They are toughened by life, hopeful, and endearing—survivors all. Brown was able to brilliantly infuse humor and light into this gritty tale. Rory Docherty has returned from the war, leaving a leg in exchange for the horrors he can't forget. His beautiful mother is a resident at Dorothea Dix Hospital, muted by a heinous act of violence, leaving Rory to be raised the inimitable Granny May. This diminutive force is his maternal grandmother; former prostitute turned healer, drawing from the folk knowledge that the mountains take care of their own. Rory's livelihood options are limited, so he turns to running moonshine, chased by revenuers, lawmen, competing runners, and his own demons. There are questions from the past to be answered, grudges to bear, and redemption to be found.

"I lifted my head from this extraordinary novel in the wee hours of the morning, stunned by the time passed and grateful for the opportunity to read such a literary gift. A vision from the novel that haunts me is that of a lone surviving chestnut tree in front of Granny May's cabin, branches filled with empty bottles to capture evil spirits and protect the home. The mountains are filled with spirits, good and evil.

"Gods of Howl Mountain captures those spirits like that lone bottle tree within its pages."
Pre-Order Gods of Howl Mountain now!